Targets' panel occupies the main part of the program's window. Here all your created targets are stored, and here you can find the most important information about each target.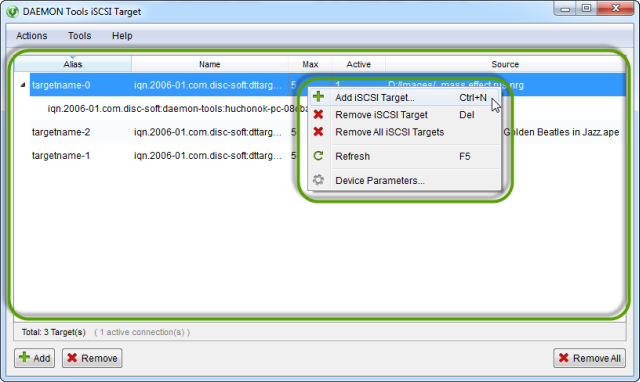 Targets' panel is represented by a table that consists of the following columns:
Alias column sets the name of the target.
Name column is a full title of the target that includes the name of your PC.
Source column represents the path and the name of an image that was mounted to the virtual device.
Active column shows the quantity of clients connected to the target.
Max column represents a maximal number of users that can be connected to this target.
Targets' panel has the contextual menu, from which you can invoke the main features relating to the target:
Add iSCSI Target option allows you to create a new target.
Remove iSCSI Target option deletes the selected target.
Remove All iSCSI Targets option deletes every created target.
Refresh option allows you to check the current state of targets (availability of images, connections, etc).
Device Parameters... option allows you to check the options of the targets or edit them.