Preferences window allows you to adjust the main settings of DAEMON Tools iSCSI Target. To open it, go to the Tools menu and choose Preferences option or use Ctrl+P hotkey. In Mac version you can find Preferences option in DTTarget menu.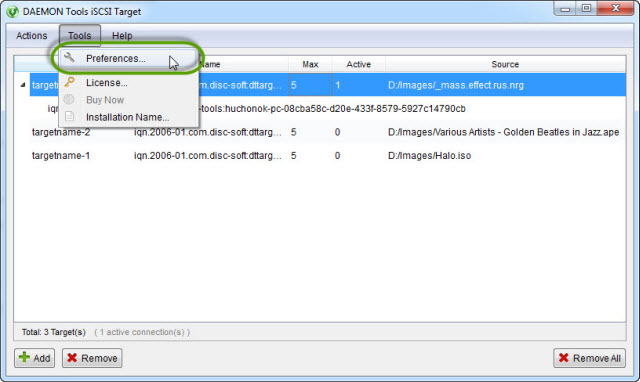 Preferences window allows setting interface, web interface and iSCSI parameters.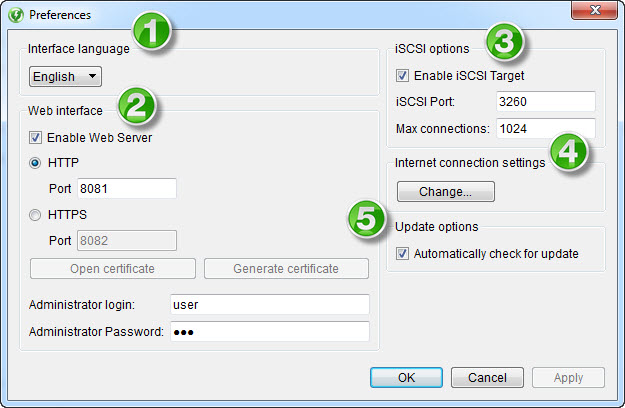 Interface parameters:

— Interface Language option is presented by drop-down list, from which you can choose the needed language. Note that sometimes you have to restart DAEMON Tools iSCSI Target for the proper interface translation.

Web interface settings:

— Enable Web Server option allows using web interface. — HTTP and HTTPS buttons are used for choosing the protocol for the web interface. — Port option sets the port number for web interface's identification. Later you will be able to open web interface using the IP address of the server and this port. — Open certificate and Generate certificate buttons are used to add the certificate if you are using a secure protocol. — Administration login and Administration password are used for identification on the web interface.

iSCSI options

— If Enable iSCSI Adapter option is unchecked, your clients won't be able to connect to the targets. — iSCSI port is used for server's identification. Don't forget to inform your clients, if you have changed this option. — Max connections option allows you to restrict the summary quantity of users connected to all your targets.

Internet connection settings

— Change... button allows you to define settings of the proxy server, if proxy is used for updates. Here you need to enter Host name and Port for proxy server and type the User name and Password, if authentication is necessary on the server. To apply the changes, click OK button. If you don't want to save the entered settings, click Cancel button.

Update options

— If Automatically check for update option is checked, then the program will be verifying the new patches on the server from time to time.